It's no secret that Java is one of the most popular programming languages in the world right now. It was officially launched on May 23, 1995.
This article is about the basics and fundamental tools of Java, that will come in handy for beginner Java developers, while senior developers will be able to brush up on their knowledge.
JDK, JRE, JVM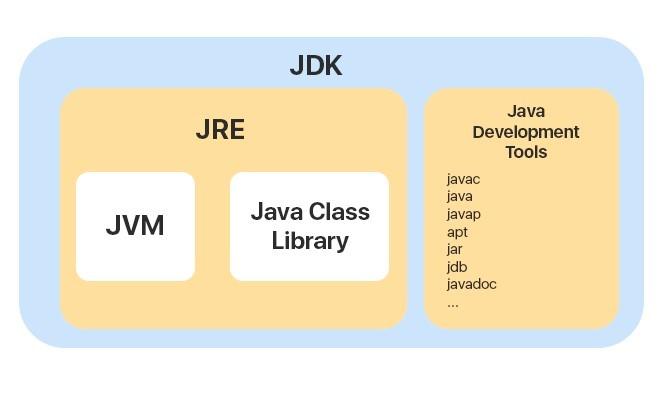 Java Development Kit is the official development kit for building applications using the Java programming language. The Kit includes Java development tools and Java Runtime Environment.
Java development tools include around 40 different tools such as: javac (a compiler), java ( launcher for Java applications), javap (class file disassembler), jdb (java debugger), and others.
Java Runtime Environment is a set of software tools needed to launch a compiled Java program. It includes Java Virtual Machine and Java Class Library.
JVM is a program responsible for the execution of a bytecode. The first advantage of the JVM is a so-called 'Write once, run anywhere' rule. It means that an app developed on Java will run on any platform. This is an advantage of both JVM and Java itself.
There are many JVM implementations both commercial and open source. One of the reasons of creating new JVMs is to increase performance for a particular platform. Each JVM is developed for a platform separately. And there is an opportunity to develop the JVM so that it will work faster on a particular platform.
The most widespread JVM implementation is the JVM Hotspot by OpenJDK. There are also such implementations as IBM J9, Excelsior JET.
Code execution on JVM
According to Java SE specifications, you need to complete the 3 following stages to get a code running on the JVM:
Downloading a bytecode and creating a Class instance
Globally speaking, the class should be downloaded in order to access the JVM. There are special Java classloaders for this purpose, but we'll return to them a bit later.
After the code is downloaded, the process of linking begins. Within this process, a bytecode is disassembled and checked. The process of linking is also divided into 3 steps:
verification: at this stage, the correctness of instructions, the possibility of stack overflow on a given code section, the compatibility of variable types are being checked; verification is done once for each class;
preparation: at this stage, according to the specifications, memory for static fields is allocated and their initialization is performed;
resolution: at this stage, permission of symbolic links happens (when we open files with the .class extension in a bytecode, here we see numerical values instead of symbolic links)
Initializing of the received Class object at the final stage, the сlass we created is initialized, and the JVM begins its execution.
Java classloaders and their hierarchy
Classloaders are special classes that are a part of the JVM.
They load classes into Java memory and make them available for execution. The classloaders work with all classes: those that were written by us, and those that are directly needed for Java.
Imagine the situation, when you developed an app, and in addition to standard classes, there are lots of personalized classes. How will the JVM work? There is such a 'function' in Java, like lazy loading, which means that the class loading will be performed only when it is first referenced.